"The approach of this state-of-the-art laboratory is to bring computers, instruments and software closer together in such a way that it will allow students to function in a manner similar to that of professionals in industry and academia."
Lap equipment includes Desktop Computers, Oscilloscopes, Power Supplies, Waveform Generators and more.
Please ensure that you use all lab equipment responsibly. It is also best to work with a partner after hours.
---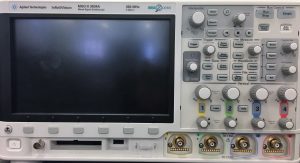 MSO-X 3034A Mixed Signal Oscilloscope 
Key Features:
350 MHz
4 analog plus 16 digital channels
8.5-inch WVGA display
Up to 4 Mpts memory
1,000,000 wfms/s update rate
Can add bandwidth, memory, 20 MHz arbitrary waveform generator, 3-digit voltmeter, serial trigger and analysis, segmented memory & mask testing at any time
---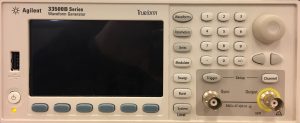 Agilent 33500B Series Waveform Generator
Key Features:
Up to 30 MHz sine and pulse
Jitter: <40 ps
THD: <0.04%
Amplitude ranges: 1 mVpp up to 10 Vpp
250 MSa/s sampling rate
16-bit amplitude resolution
1 MSa/channel memory, 16 MSa optional
---

Agilent U3401A Digital Multimeter
Key Features:
11 basic measurements
6 Built-in math functions
0.02% DCV
50,000 counts resolution
Dual display on bright VFD lets you view two readings simultaneously
---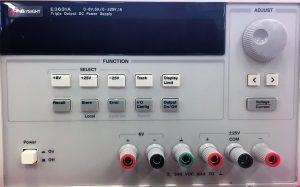 Keysight E3631A Power Supply
Key Features:
Output 1: 0 to 6 V, 0 to 5 A
Output 2: 0 to +25 V, 0 to 1 A
Output 3: 0 to -25 V, 0 to 1 A
Programming Accuracy at 25°C ±5°C
Voltage: 0.05% + 20 mV, 0.05% + 20 mV, 0.1% + 5 mV
+ Current: 0.15% + 4 mA, 0.15% + 4 mA, 0.2% + 10 mA
Ripple & Noise (20 Hz to 20 MHz)
Normal Mode Voltage: <350 µVrms/ 2 mV p-p, <350 µV rms/2 mV p-p, <350 µV rms/2 mV p-p
---
Consult lab faculty with questions regarding equipment use